Butterfly Wonderland Becomes the First Butterfly Education Facility to Earn Certified Autism Center™ Designation – Press Release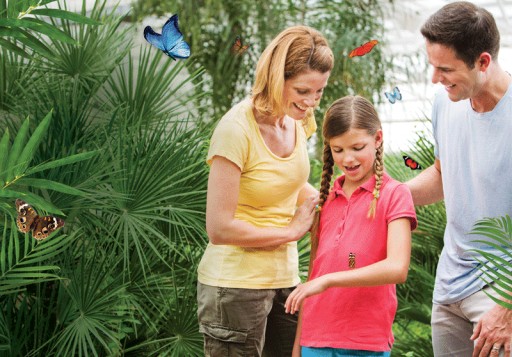 SCOTTSDALE, Ariz. – January 23, 2020 – (Newswire.com)
​​​The International Board of Credentialing and Continued Education Standards (IBCCES) announced today that Butterfly Wonderland is the second attraction in Arizona—and first butterfly education facility—to become a Certified Autism Center™ (CAC). Sister attraction OdySea Aquarium was the first to become certified in Arizona in 2019.
The CAC designation, granted by IBCCES, means that visitors and families with children who have autism and other sensory sensitivities can enjoy the best possible experience that caters to their needs. To achieve the CAC accreditation, Butterfly Wonderland staff completed the critical training required by IBCCES to recognize the needs of guests on the spectrum and provide necessary facility options for this demographic.
"Butterfly Wonderland has always strived to be an accessible and accepting destination, as we know families with children on the autism spectrum find it challenging to find joyful, peaceful attractions to visit," said Butterfly Wonderland's Executive Director Dee Mangulins. "In developing our employees through these training programs, we can continue to ensure meaningful experiences for everyone who steps through our front doors. We look forward to engaging new audiences and enabling even more people to experience the fun, educational and enriching rainforest experience we provide at Butterfly Wonderland."
Prior to the CAC certification, Butterfly Wonderland became PAL certified, hosted Family Autism events and, as a PAL Place, featured a special video on its website for families with children with sensory disabilities. This helpful video follows a child with autism and his family as they travel through each area of Butterfly Wonderland, showing others exactly what to expect on a visit. Guests with special needs are encouraged to request help at Butterfly Wonderland to make their visit more enjoyable. Today's CAC certification solidifies Butterfly Wonderland's commitment to making the facility as family-friendly as possible for everyone.
For almost 20 years, IBCCES has been the leader in cognitive disorder training and certification for healthcare, education and corporate professionals around the globe. IBCCES recognized that many families with children who have special needs have limited travel and recreation options. In response to this need, IBCCES created training and certification programs specifically for the hospitality and travel industry. More families and individuals are seeking out destinations and organizations that have completed a certification program through an accredited source. IBCCES is the only credentialing organization providing this type of certification, which includes evidence-based information as well as the perspectives of individuals with autism, alongside other tools and resources such as on-site reviews and customized recommendations, as well as renewal requirements to ensure the program is a long-term commitment and has a lasting impact.
"IBCCES is excited to work with another unique experience to ensure all families and individuals have options," said Myron Pincomb, IBCCES Board Chairman. "To see more organizations and attractions going above and beyond to make sure they are providing a welcoming environment for all guests is inspiring."
IBCCES also created AutismTravel.com, a free online resource for families and individuals looking for travel and recreation options that lists certified destinations and travel professionals. Each destination listed on the site has met Certified Autism Center™ (CAC) requirements.
###
MEDIA CONTACT:
Karin Korpowski-Gallo, Butterfly Wonderland
Phone: (480) 219-8218
Email: Kgallo@odyseainthedesert.com
Meredith Tekin, President IBCCES
Phone: 904.508.0135 // 904.434.1534
Email: meredith@ibcces.org
Press Release Service
by
Newswire.com
Original Source:

Butterfly Wonderland Becomes the First Butterfly Education Facility to Earn Certified Autism Center™ Designation
All content is property of the owner, unless otherwise specified. This content is not owned, or maintained by M & M Travel and Tours/MM Autism Travel, and is used only for informational purposes. Please visit the content owners link via the source link for more information.